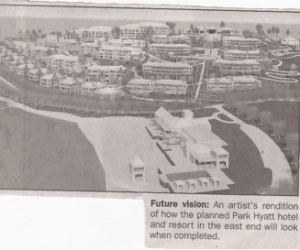 Plans for the Park Hyatt Hotel, St George, are now available to the public at the Dept of Planning. (Dame Louis Brown Evans Bldg) There is also some information in the RG, Friday July 8 & Bda Sun, Saturday July 2nd. Objections are due by July 15.
BEST believes that the size and scale of the project is massive and perhaps unsuitable for St George's status as a World Heritage Site
Other areas of concern include:
Staff housing is proposed to be built on land designated Open Space Reserve
A Utilities (industrial) Zone is slated for an area currently zoned Woodland Reserve, although there is no mention in the application for a Change of Use.
Development also appears slated for land zoned Agricultural Reserve
What will be the impact of traffic, especially through the residential areas which have very narrow roads?
How does this development fit in with the overall hotel/tourism development plan?
An Environmental Impact Statement should be produced for a project of this magnitude, in accordance with the Environmental Charter the Bermuda Government signed on to in 2003.
Whilst welcoming the prospect of a new hotel to the East End, care must be taken to ensure that it meets the highest environmental standards and abides by the Bermuda Plan 2008 (approved after considerable consultations and public input, in June 2010).