Mission statement
To preserve and enhance the quality of life in Bermuda for present and future generations by engaging with the community to advocate for sustainable management and development of the physical, social and economic environments.
Focus Areas
Community Education & Outreach
Responding to Events
Building Capacity
Influencing Policy
Please note: BEST has an interest in fostering orderly and appropriate development, particularly where the development is of large scale with a significant environmental impact. For example, BEST believes that the expansion of the tourism industry should be orderly and measured against a comprehensive plan, which at the moment is non-existent.
If you would like to join BEST, or if you have any questions, or comments please contact us.
BERMUDA REGISTERED CHARITY #858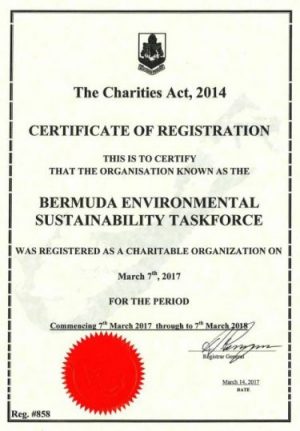 Meet the Team
Board Members
Stuart Hayward – President
Gail Miller – Chair
Gail Fox – Treasurer & Deputy Chair
Brian Patterson – Secretary
Keren Lomas
Frances Marshall
David Wingate
Governance Committee
Stuart Hayward
Brian Patterson
Management Committee
Susan Armstrong, Chair
Alex Conyers
Alaina Cubbon
Adam Farrell
Jennifer Flood
Stuart Hayward
Harry Masters
Lynne Matcham
Andrew Rothwell
Kim Smith
Megan Sutcliffe – Jnr Member
OPERATIONS
Stuart Hayward – Chief Advocacy Officer
Kim Smith – Project Coordinator
Background Information
The Bermuda Environmental Sustainability Taskforce, or BEST, is an environmental advocacy organisation that works primarily to preserve and protect Bermuda's dwindling open spaces.
The idea first took shape in 2006 when a small group of people banded together to save Bermuda's Botanical Gardens from being built on — at the time, the new hospital was being designed to consume about one-third of the Gardens. We realized that there wasn't anyone who was looking out for the broader community's interest when big development projects were being planned. So when the 37 acre and nearly pristine Southlands property was threatened with obliteration by a glass and concrete hotel, we changed our name from "Save the Gardens" to "Save South Shore" and then to "BEST".
BEST has three part-time consultant staff-persons. While our mission includes social and economic factors, our dominant focus is on the physical environment. We scrutinize the weekly gazetting of planning applications and screen them to gauge our response. Our attention is triggered if conservation-zoned lands are involved or if the development has a significant environmental impact.
We aren't content to only react to planned developments. We work also to influence policy, for example, through our contributions to the Bermuda Plan and the City of Hamilton Plan; our publication of the "Blueprint for Environmental Sustainability"; and our efforts to make the application vetting process more user-friendly for ordinary citizens. We have found the staff at the Department of Planning increasingly willing to assist our inquiries and open to our suggestions for changes in procedure when appropriate.
Our approach varies depending on the issue, usually ranging from no response, to a letter of objection, to involving the community in an awareness and activist campaign. We have produced informational videos for TV and the internet, held walks through threatened areas, hosted concerts, launched and delivered petitions, researched and published position papers, produced and distributed media releases, held press conferences and put on workshops. On four occasions we have gone before Bermuda's Supreme Court, all successfully, to gain legal force for our stance.
Our most recent public event was the BEE FAIR in April 2014 that was triggered by concerns about declines in bee populations, globally and locally. The Fair featured a variety of exhibitors, vendors, films, children's activities, and a panel discussion centered on local bee-keeping issues. The children's art and poetry competition produced delightful and thought-provoking interpretations of the life of bees.
Attendance at the event was encouraging, as was radio and TV station VSB's declaration of April as Environmental Awareness Month — purely coincidental but so very timely as several of the Fair's organising team and BEST boosters were interviewed during the month.
More and more frequently we are called on by members of the public to assist them with Planning issues. We are usually able to help, by steering them to the right government agency, suggesting approaches to their problem, putting them in touch with others who share their issue(s) and providing meeting space and logistical support.
The success BEST has experienced is due mainly to the wealth of innovation and energy we are gifted by the volunteers who give of their time as members and leaders of our issue groups, Management Team and Board of Directors. We are also grateful for the donors who pitch in to help defray our very modest operating expenses.
Our most diverse volunteer spread is by age. Our youngest member is a high-school teenager; our oldest an octogenarian. We are fortunate to have attracted college students as interns during the summers who have taken on mini-research projects such as the histories of Southlands and of the Pembroke Marsh project to evolve the area into a parkland.
Equally diverse are our current projects:
producing an information paper on Radio Frequency (RF) radiation,
examining the cumulative impact of marinas,
contributing to the Environmental Impact Assessment (EIA) of the nine-acre landfill at Cross Island in Dockyard's South Basin,
monitoring hotel developments in St George's and at Morgan's Point,
examining the issues surrounding the security of our food supply,
working with other organisations to heighten our collective awareness of and attitude toward energy production and consumption, and the amount of waste (trash) we produce and what we can do about it.
A measure of the effect of Bermuda's environmental organisations is the heightened awareness among youth and adults of the importance to protect and improve the health of Bermuda's land and marine environments. That's good news. Even better news is that environmental issues are more often in the news these days. Issues of sustainability are raised more often in casual conversations, in policy discussions among leaders in business and politics, in educational discourses in our schools. Most significantly, any consideration these days of major development projects almost automatically includes EIAs. That's just about the best news for us.
Accomplishments to Date
Saved the Botanical Gardens (as earlier organisation Save the Gardens).
---
Initiated and led a Forum on Sustainable Tourism (Sept '07).
---
Held an EcoFest (Oct '08).
---
Triggered the Government offer of a land swap that would save Southlands for use as public parkland.
---
Raised public awareness through demonstrations such as Green Day, community walks, concerts and picnics.
---
Researched, drafted and had published a position paper on the illegal development at Dockyard (published in the Royal Gazette July 3&4, 2008).
---
Initiated and conducted a Community Empowerment Workshop (March '09) to build skills of advocacy.
---
Initiated formation of Eco-Clubs in the Island's schools.
---
Initiated a campaign to prevent the building of a beach bar at Warwick Long Bay which culminated in a successful Supreme Court Judicial Review of the Environment Minister's decision to uphold an appeal by the developer; the Minister's decision was quashed.
---
Collected over 5,000 signatures on the Save Warwick Long Bay petition.
---
Established BEST as a community information resource consultant and advocate.
---
Incorporated as a limited liability company and achieved Charity status.
---
Participated in a community discussion on the issue of long lining — BEST initiated and collaborated on a position paper on the topic (published in the Royal Gazette November 23, 2009).
---
Launched the Coalition for Community Activism in Bermuda (CCAB), a coalition of grassroots advocate organisations on public policy (the environment, youth, the elderly, social justice, human rights).
---
Researched, drafted and had published a position paper on the National Aquatic Centre (published in the Royal Gazette September 1, 2010).
---
Researched, drafted and had published a position paper on Sustainable Tourism that drew the attention of and kudos from Bermuda's environmental organisations (published in the Royal Gazette July 13, 2010).
---
Made over forty written submissions to the Bermuda Plan 2008 — and made oral presentations on more that twenty of them to the Bermuda Plan Tribunal during the Fall of 2009. BEST's submissions included calling for:
Mandatory Environmental Impact Assessments
Protected zoning enforcement
Restrictions on discretionary Special Development Orders
It is worth noting that the Tribunal made a special mention of BEST's efforts:
The majority of counter objections were received from environmental groups such as the Bermuda Environmental & Sustainability Taskforce (BEST). BEST submitted the lion's share of these objections. Such objections were primarily lodged against those land owners who proposed amendments to agricultural land, albeit BEST also objected to the reduction and removal of woodland, open space and coastal areas. The Tribunal would like to applaud BEST for its hard work. Much time and effort by the group went into investigating each advertised objection. Such efforts certainly demonstrate the group's sincere commitment to safeguarding those environmentally sensitive areas around the Island for future generations of Bermudians. (from the Introduction to the Report of the Draft Bermuda Plan 2008 Tribunal)
---
Provided support and oversight of a research project on the future of Agriculture in Bermuda. The resulting Report was publicly launched on 17 November 2010. Prior to the launch, researcher and author Aran McKittrick engaged relevant government agencies and stakeholders.