The Royal Gazette, Feb. 24, 2010.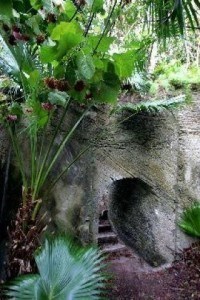 Southlands will remain in limbo until the conclusion of a land exchange agreement.
Planning regulations mean the Special Development Order (SDO) on the property will take precedence over any re-zoning under the Draft Bermuda Plan 2008.
This means that if the land swap between owners Southlands Ltd. and Government collapses, they can go ahead with plans for a resort on the South Shore property.
Despite a commitment to create a national park once the land exchange goes through, Government is still refusing to comment on why it "supports" tourism zoning at Southlands.
The 37-acre estate will remain in the hands of Southlands Ltd. until the official exchange for 80 acres of Government land at Morgan's Point.
The SDO for the 269-guest suite and 42-residential unit resort plus facilities was approved in July 2007 and has since remained in place, despite Premier Ewart Brown's announcement in April 2008 that it would "most likely" become a national park.
Since Dr. Brown's announcement of the land swap that month, Government has declined to outline its plans for the estate.
In March last year however, Junior Minister for Tourism Marc Bean said it was Government's "stated intention" to create a national park there. Senator Bean was responding to Parliamentary Questions by Senator Michael Fahy, Opposition spokesman on the Environment, asking whether the land would be rezoned as national park and open space reserve.
"Pursuant to the stated intention of Government, upon completion of the land swap agreement the land known as Southlands will be designated a national park," said Sen. Bean.
Environmentalists and conservationists were dismayed in November 2008 when the release of the Draft Bermuda Plan 2008 revealed the property was still zoned as tourism and residential one.
The Bermuda Environmental and Sustainability Taskforce (BEST) launched an official objection to the draft zoning plan, requesting the tourism zoning be changed to park, open space and nature reserve.
BEST presented its case at a planning tribunal this month, arguing for the rezoning of the South Shore property, "to provide protection to Southlands Estate and to reflect the stated Government intention to establish a public park".
However, the Department of Planning announced it "supports the current zoning designation of Southlands as set out in the Draft Bermuda Plan 2008".
The tribunal report stated that as the property was subject to an SDO, it could not address any zoning issues. According to regulations, whenever there is conflict between an SDO and the Draft Bermuda Plan 2008, "the provision of the Special Development Order shall prevail".
The report said: "The Draft Bermuda Plan 2008 Tribunal cannot address issues related to the Southlands Resort Development (Warwick Parish) Special Development Order. "The Department of Tourism has been consulted and has stated that it supports the current zoning designation of Southlands as set out in the Draft Bermuda Plan 2008.
"Therefore, at this time the Department of Tourism does not support the objection as it relates to Southlands."
The Department of Conservation Services was also said to find "the existing zoning is applicable to the existing site conditions and current ownership".The report stated: "They do not support any rezoning of the Southlands Estate until such time as the land title is transferred to the Bermuda Government."However, the Parks Department appeared to remain non-committal."The Department of Parks was also consulted but has not forwarded any comments to date," the report said."The Department of Planning has consulted with the agent for the land owner and advises that the property is still in private ownership and that the owner (Southlands Ltd.) support maintaining the zoning as shown of the Draft Bermuda Plan 2008 Zoning Maps."
At the Tribunal, BEST also proposed adding a woodland reserve conservation area between the northern residential one area and main Southlands property.The Department of Planning however, said the estate already had such an area.Government refused to comment on the zoning yesterday or what its plans were for Southlands or Morgan's Point.A spokeswoman for the Department of Tourism said: "Your paper has covered this subject extensively over the past year and the questions you pose have been answered by the Premier in the past."At this time we have no further comment."
 Stuart Hayward, chairman of BEST, said last night: "If the Government reneges on its promise, the current owners of Southlands will likely revisit their plans to develop the property, with the worst possible outcome being that both Southlands and Morgan's Point be targeted for major hotel development."