The Royal Gazette, Feb 23, 2010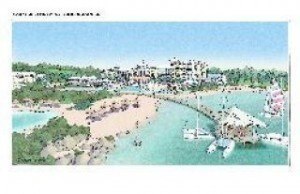 Global insurance chief Brian Duperreault has accused Premier Ewart Brown of repeatedly stalling the Southlands land swap deal and treating him and his partners unfairly.
The chief executive officer of insurance giant Marsh & McLennan Companies toldThe Royal Gazette in an exclusive interview that Southlands Ltd. had been "damaged" by endless delays, had spent a "lot of money" already and would consider suing if the exchange failed to happen.
"It is clear that the Premier does not want to have the swap take place," Mr. Duperreault said. "He doesn't want Southlands taken by the Government and made into a park. He doesn't want us to take possession of Morgan's Point. I don't think there is a desire, at least on the Premier's part, to do this at all."
The Premier's press secretary said yesterday that Dr. Brown had no comment on the claims.
Mr. Duperreault partnered with two other Bermudians — Craig Christensen and Nelson Hunt — to buy the 37-acre Southlands estate in Warwick in 2005 and to incorporate Southlands Ltd.
Their plan to develop a resort on one of the Island's largest remaining unspoilt plots met with uproar from the community, as did the granting of a special development order (SDO) for the project in August 2007.
The three businessmen agreed to swap the site for 80 acres of public land at Morgan's Point in Southampton.
The two sides signed a land swap agreement in April 2008, when Tourism Minister Dr. Brown said Southlands would "most likely" become a national park.
Three hotels with 320 rooms, a marina, residences, shopping and an 18-hole golf course were planned for the former US Naval Annex and Government agreed to carry out a multimillion dollar clean-up of environmental damage and pollution there.
But the deal has never been legally completed due to a constant stream of demands and failures to move forward by the Premier, according to Mr. Duperreault.
Dr. Brown's demands included that Southlands Ltd. get a trophy golf course designed, have financing in place and have a development partner on board before the exchange could happen.
All of the requirements were met and a detailed plan was presented by Southlands Ltd. in December. But earlier this month, Dr. Brown said Government was dissatisfied with the proposal due to "too much concrete" and was looking at other opportunities for Morgan's Point.
"We would love to do this project but how do you deal with this kind of vacuous, non-specific criticism?" said Mr. Duperreault.
"I can't get specifics. What kind of relationship is that? To date we have still not got a specific answer about what's wrong with what was presented to them, except his comment in the press about concrete."
He claimed the demands placed on Southlands Ltd. were far and above those given to foreign hotel developers.
"They want financing. That's kind of interesting because I don't believe anybody else has had to do that in order to get the land. If you want [us] to have financing, well, it would be nice to own the land!
"You do have to have a very specific requirement in order to present a business plan to the bank. If you can't get that from the Government, and, by that, I mean the Premier, if you can't get a specific agreement on what is going to be on the site, it's like a chicken and egg situation."
He added: "It's three Bermudians here trying to do something. You can draw your own conclusions about what's going on. Fundamentally, it's a question of fairness and good faith. We don't think we have been treated fairly and we don't think we have received the good faith in negotiations that we thought we would."
Mr. Duperreault retired as chairman of ACE Ltd. in 2006 but was lured back into business in 2008 by Marsh, the world's second largest insurer broker.
The MMC president and CEO told this newspaper he had been less hands-on with Southlands since then, but that his two partners had "sweated blood over this thing".
"They have devoted all of their energies," he said. "You can imagine how frustrated the three of us are in this process. I think it's important to understand that we were approached to do this. The Government came to us."
Asked if Southlands Ltd. would consider suing, Mr. Duperreault replied: "We will keep our options open. I think it's very clear. We don't like to do this. But are we at fault here? Have we done something wrong?
"Certainly, we'll be disappointed. It's just so unfair. If justice prevails, then this should take place and we should be able to go ahead. I'm just tired of this."
He criticised Dr. Brown for suggesting a new development partner just last month, even though Southlands Ltd. had agreed to work with John Ryan and Egbert Perry, whom Mr. Duperreault described as "world class hotel developers with Caribbean experience".
Mr. Ryan and Mr. Perry signed a deal with the Antiguan government last week to build a 2,000-acre resort on the Caribbean island.
Mr. Duperreault said he and Mr. Christensen met "in good faith" with Dr. Brown's preferred developer, who proposed 40 hotel rooms and 20 villas for Morgan's Point.
"It's a complete turnaround from what we were told at the start," said Mr. Duperreault. "I didn't see a plan. There was a concept, but I don't think it works on that site economically."